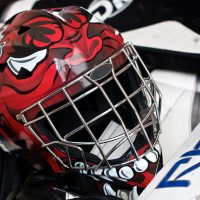 Sometimes sports just give you amazing stories you probably couldn't write.  In every NHL game there is a designated person that is the emergency goalie for both teams in case of injury.  Saturday night David Ayres was the emergency goalie in Toronto and after both of the Carolina Hurricanes goaltenders left the game due to injury, Ayres was forced into action.
The 42 year old zamboni driver entered the game in the second period with the Hurricanes leading the Maple Leafs 3-1.  He allowed 2 goals on his first two shots faced.  Just as it looked like it may be heading towards a disaster, Ayres stopped the next 8 shots and got the victory for the Hurricanes.
An unforgettable night for this zamboni driver not only did he get to play in his first NHL game he was also credited with the victory and an awesome story nobody will be able to take away from him.  Also, whenever the Leafs fail that makes any hockey fan happy.