Dani in the Morning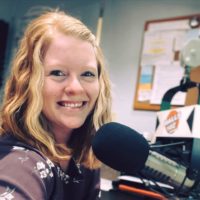 Get to Know Dani!
Where are you from? Currently I live in Ladd with my husband, two daughters, and dog but I'm originally from Geneseo. 
What do you do in your free time? I stay plenty busy with a toddler, a baby, and a loving but clueless husband. I love hanging out with my family, hitting the gym, and relaxing with a good cup of coffee with the dog. 
Favorite part of your job? Love getting to know my listeners and every day is new! There are always new stories, events to talk about,  and new music to share. 
Previous job experiences? I've worked in radio broadcasting for about 15 years. I got my first radio job when I was 15 at a little station in Kewanee, IL. From there, I went to  college at WIU Macomb for Radio Broadcasting/Music Business. I worked at my college town station and progressed to stations in Rochelle, Bloomington, and then landed here!
Favorite snack food? You can never go wrong with pizza, no matter the meal, hot or cold.
Morning Show Schedule:
[6:15 am] Holidays of the Day –  Dani highlights the holiday of the day
[6:30 am] Country Rundown – Keep up to date with the latest in country music and celebrity news.
[7:05 am] Feel Good Story of the Day
[7:50 am] Dr. Ed Monroe Country Throwback – Take a trip back in time with the country throwback song, every weekday morning!
[8:15 am] Brother's Country Supply What's That Lyric? Game – We'll play an animal sound over a song word, guess the correct word and win a gift certificate to Brother's Country Supply.
[Fridays at 9:05 am] The Law Offices of Peter F. Ferracuti Community Coffee Convo – We highlight amazing people in our community every Friday morning!
[9:30 am] Dumb Criminal of the Day – Story to shake your head at with the "Dumb Criminal of the Day", a funny story in the news about a criminal that didn't quite get away with it.
[9:40 am] Central Bank Illinois Pet of the Week – Dani talks about the pet of the week with an amazing shelter animals that deserve a home from Illinois Valley Animal Rescue.
The Walls 102 Morning Show is brought to you by: Steinberg Furniture, DJ's Carpet Furniture & More, Koolmaster, Eureka Savings Bank, and Town & Country Services.
Morning Show Blog:
Nothing gets that smile like seeing the boys and girls in uniform getting to come home to a family member that misses them this much!