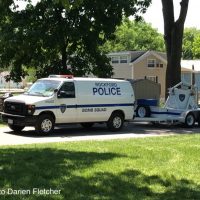 AMBOY – The Illinois State Police and other first responders were called to a campground in the 900 block of Green Wing Road in Lee County Monday morning a little after 11 AM for what was reportedly a bomb threat.   Amboy Fire And EMS have staged at the scene.  Traffic was backed up at Green Wing Road and US Route 52 as authorities restricted access to the area.
Eyewitnesses report a recreational building was secured and the Rockford Bomb Squad arrived on the scene deploying a robot.   By 2:45 PM authorities had assessed the situation and determined there was no immediate threat.    The investigation is ongoing and no word of any persons in custody over this incident.
In a statement released this afternoon, a spokesperson for the campground stated that authorities had determined it was a hoax and nothing was found.