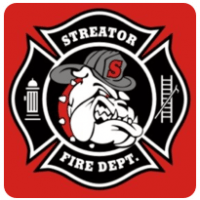 The Streator Fire Department extinguished a structure fire late Tuesday night,
November 7, 2017. Firefighters were called to 115 W Kent Street at 11:22 pm after a
report that the roof of the residence was on fire. Fire crews arrived in 3 minutes to find
smoke and flame coming from an area of the roof of the 2 story, wood-frame structure.
Residents of the home had evacuated prior to arrival. Streator Fire had the fire under
control in less than 5 minutes. Fire crews were on scene for just over an hour.
A total of 13 Streator firefighters assisted with the blaze and no injuries were reported.
The home suffered minor damage with a small area of the roof damaged by fire. To
access the fire, crews had to pull down ceiling causing minimal damage.
It was determined that the cause of the fire was unintentional.
The Streator Fire Department was assisted by VCom, the Streator Police Department,
Advanced Medical Transport, ComEd, Nicor, and the American Red Cross.