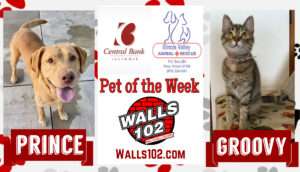 DOG: PRINCE – This perfect boy is a 4-5 year old lab mix. Prince is a handsome boy that came to us having never been treated for the seizures he's had his whole life. Now he'll forever be on medication to combat the seizures and hopefully he won't have to go through one very often, if ever again! He's very sweet and loves getting attention! If you have other pets or kids, IVAR will gladly test Prince out to make sure he's safe for your home.
CAT: GROOVY – Add a little peace and harmony with the grooviest of cats Groovy! This free spirited kitty loves everyone and everything! She is a happy, jolly little kitty who always seems to have a bounce in her step. Groovy is a sweet, affectionate kitty who enjoys getting attention. Let the sun shine in by bringing Groovy into your home!
If you are interested in adopting, fill out an online application at www.illinoisvalleyanimalrescue.net. You can check out more adoptable animals online or on their Facebook page too!