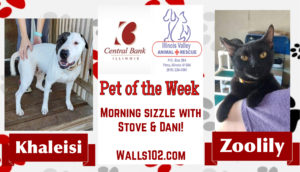 DOG: KHALEISI – This lovable 1 year old bull terrier mix is just the sweetest! Khaleisi is the most excited gal around! She's always wiggling her tail and waiting for someone to come pet her! Khaleisi loves attention and would love an active, cuddly family! She's great with kids and is dog friendly.
CAT: ZOOLILY – Zoolily will make your daily life extra special with her fun and unique personality! This charismatic kitty always enjoys being the main focus of attention. She is a wonderful kitty who pretty much loves everything, except other kitties! Bring home this exceptional kitty who is ready to fill your days with love!
Lets help Khaleisi & Zoolily  find their FUR-ever homes!
Illinois Valley Animal Rescue – 815-224-0061