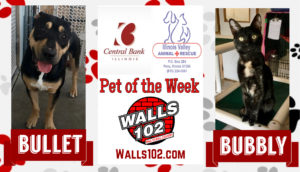 DOG: BULLETT – Bullet is a 3.5 year old Rottweiler mix. This handsome boy has such a contagious smile! He's a tidy pup that loves to play and get cuddles. He is too cute and will draw you in with his adorable puppy eyes! He keeps his kennel clean and could use an energetic, active home. He prefers no other dogs in the home.
CAT: BUBBLY – Light hearted Bubbly is ready to bounce into her forever home! This perky tortie is very enthusiastic about being petted and she can get very animated from her excitement. She prefers jumping on your shoulder to being picked up and held. Refreshing little Bubbly is eager to brighten your home with her invigorating sparkle!
If you are interested in adopting, fill out an online application at www.illinoisvalleyanimalrescue.net. You can check out more adoptable animals online or on their Facebook page too!