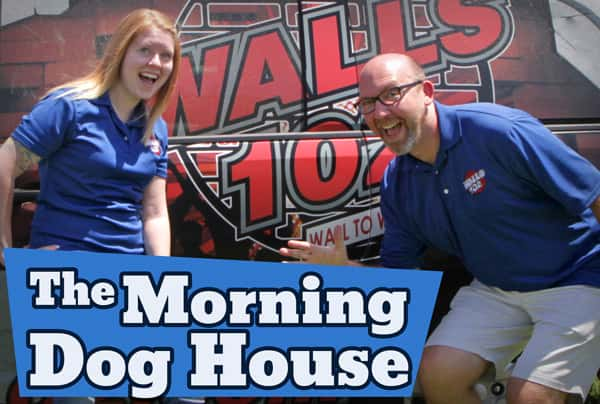 The Morning Doghouse airs from 6 until 10 a.m. Monday through Friday on WALLS 102.
---
ZamZam hails from Punxsutawney, PA (yes, the home of the groundhog) but is now living in Peru. He graduated from Clarion University of Pennsylvania with a degree in broadcasting. He is a fan of the Dallas Cowboys (America's Team) and loves dirt-track racing. It is way too flat in Illinois, but he is enjoying the Central Time Zone.
Join ZamZam from middays from 10 a.m. until 3 p.m. weekdays on WALLS 102.
---
The Czar is from Macomb Michigan about a half hour north of Detroit. Graduated from Oakland University as well as Specs Howard School of Media Arts. Enjoys playing and watching sports, and during his free time away from the station you can probably find him out on the golf course.
---
Chels is a Streator native who graduated from North Central College with a degree in Theatre but decided that wasn't enough education, so she now attends cosmetology school. When she isn't styling hair or working you can find her watching Disney movies or practicing her photography.
Hangout with her on Walls 102 from 7pm to Midnight.
---
Lorianne Crook and Charlie Chase are not only two of the most well-known authorities on the Country music scene; they are also huge fans of the format. Each weekend, Crook and Chase count down the top 30 songs as reported by Mediabase 24/7. The show features four hours of hits, humor, and artist interviews. Each show contains 4-8 unique and entertaining interviews with guests such as Tim McGraw, Carrie Underwood, Kenny Chesney, Darius Rucker, Miranda Lambert, Lady Antebellum…and the list goes on.
---
zMax Racing Country, now in its 25th year, is a weekly two-hour music intensive variety show featuring insights and interviews from behind the scenes of NASCAR and Nashville. Co-Hosts Paul & Cathy are well known members of the media community: Paul Schadt – Charlotte's top Country Morning Man and Cathy Martindale – award-winning Nashville anchor. Racing Country reaches millions of listeners weekly playing the best selection of country music and original interviews straight from the NASCAR Garage and the Nashville recording studios.
---