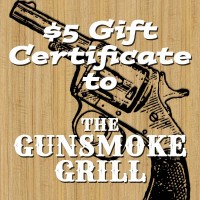 Play the Daily Stampede weekdays @ 5:20pm.  Choose the Stampede winner correctly (Shelby Dog, Mark, Paul) to win a $5 gift card from the Gunsmoke Grill in Cedar Point!
Prize: Certificate for Gunsmoke Grill valued at $10.00.

How to Play: Listen to Walls 102. Call in when prompted by the on-air announcer. Be the caller number designated by the announcer to play.
Contest Begins: 01/01/2017
Contest Runs: Monday through Friday
Contest Ends: To Be Announced
Contest Rules: No purchase necessary. Standard contest rules apply. Sponsored by The Gunsmoke Grill. Winner is based on the caller number specified by the on-air announcer, and is asked to pick a winning contest in on-air daily stampede race. Approximately 3 winner a week. Game is played daily. Winner is issued Gunsmoke Grill certificate valued at $5.