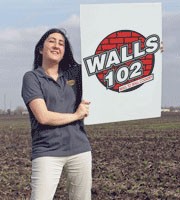 6 until 10 a.m.
Sweet V hails from Pittsburgh, Pennsylvania, where she studied radio broadcasting at Point Park University. She now calls Peru home. Her first radio experiences include being on-air at her college radio station and working as a board operator for CBS Radio in Pittsburgh.
Her interest in radio stemmed from a love of music and many compliments on her voice. She thought, "How could I merge the two?" and ta-da!
Val co-hosts The WALLS 102 Morning Doghouse with Dog from 6 until 10 a.m. Monday through Friday on WALLS 102.
Every weekday morning, Dog and Val bring you the Hollywood Hubub at 6:50; Starbuck's Who's Closer at 7:15; the Town & Country "Country Throwback" at 7:50; The SoundFX Game at 8:15, "Not the News" at 8:30 and the McDonald's Morning Mix-up at 8:45.
The WALLS 102 Morning Doghouse is sponsored by Nerds on Call, D.J.'s Carpet Furniture & More in Peru, Marien Mae, Koolmaster, Steinberg's, McDonalds in Oglesby, Peru and Streator and Town & Country Services.