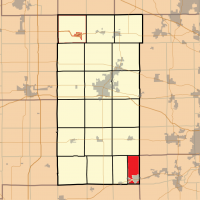 SANDWICH – A Marengo Couple had their SUV seized after a traffic stop in Sandwich where officers found they possessed 6lbs of marijuana.
Around 7 PM Tuesday evening, Dekalb County Deputies stopped 34 year-old Joseph M Rutkowski for allegedly speeding on North Latham Street. During the investigation another Deputy arrived with a K9 Officer that during a free air search was alerted to possible narcotics inside the vehicle. A search was conducted and seven packages containing 6lbs of marijuana plus other paraphernalia was reportedly found in the vehicle. A passenger , 36 year-old Miranda L Rutkowski, was arrested for possession, and the driver was charged with possession and having paraphernalia.
The SUV was seized under the drug asset forfeiture act. According to the Dekalb County Sheriff's office, the street value of the drugs was $55,320. They were both taken to the Dekalb County Jail where they are being held without bond.